OUTSIDE NEW ENGLAND - TEMPORARY SHIPPING CHARGES DUE TO COVID 19: If your order is being shipped outside of the 6 New England states we are temporarily using UPS 2-Day Air to insure your meat arrives in excellent condition.

TEMPORARY SHIPPING CHARGES - OUTSIDE NEW ENGLAND

OVER $99 - $29

UNDER $99 - $39

Shipping rates in New England have not changed..

 

"My order was shipped quickly and arrived the next day. Beef was still frozen and packaged so nicely with great care. Looking forward to placing another order. Highly recommend Heartstone Farm."

- TIFFANY RAPP, Winthrop, Maine
We deliver and ship our beef to homes throughout the Northeast
We guarantee your beef will arrive in excellent condition - it's our responsibility.
Delivery to Northeast States $14.95 FREE OVER $99
1-2 Day delivery if your order is going to Maine, Massachusetts,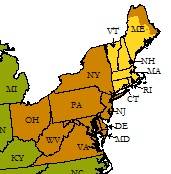 New Hampshire, Rhode Island, Connecticut, Vermont, New York, New Jersey, Pennsylvania, Maryland, Ohio, Virginia, Washington DC, and West Virginia.
If you would like a shipment sent outside the Northeast contact us for a custom shipping quote info@heartstonefarm.me
Local delivery
If your order is going to a local address - or is along our restaurant delivery route, we will hand deliver it to you.
We ship every Monday and Tuesday
Orders placed by Sunday at midnight are shipped every Monday and Tuesday. In New England that means your order will arrive Wednesday. Outside New England your order will arrive on Thursday. We ship on Mondays and Tuesdays to insure that even in the event of an unlikely delay in transit your meat will not be stuck at UPS over the weekend.
We carefully box your order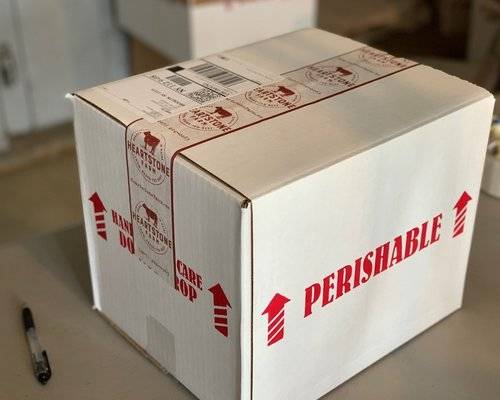 We take extra care to insure your order arrives cold/frozen and in excellent condition. We're proud of our meat and we want to insure that the journey from our farm to your home is without incident. If your meat should ever arrive in less that perfect condition, please notify us immediately and we'll fix it.
We use dry ice for shipments outside New England to insure your beef arrives in excellent condition.
Beef Shares delivered to your home
We deliver Quarters and Sides to our beef share customers all year long. Many of our deliveries are done in person using our new freezer van pictured above. Shipments beyond Boston are shipped by UPS using dry ice. We guarantee your beef will arrive in excellent condition.
When you place your order for a Beef Share you will be contacted to arrange for delivery.
WE CURRENTLY ONLY OFFER SHARE DELIVERY TO MAINE, NEW HAMPSHIRE AND MASSACHUSETTS.
Got a question or concern? Call us at (207) 424-0063 or email info@heartstonefarm.me